Bakker & Rusch
W. Bakker and H. Rusch, two "classical" teachers, developed a new method for Dutch geography education in the first half of the last century. School wall maps were an essential element of this method. Maps were first designed of the Netherlands and the provinces, then maps followed for other countries in Europe, the continents and, for example, Indonesia.

The place names were missing from the cards. However, symbols for trade, industry, agriculture, animal husbandry and leisure activities were widely used…. and that's the nice thing about their cards. Through this method, the children not only gained topographical knowledge, they also learned a lot about "what people lived at that time of".

Bakker and Rusch's maps provide an incredibly beautiful and nostalgic picture of our country in the last century.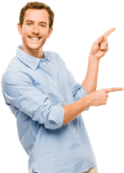 Need Help?
info@stationeryheaven.nl